Hello, I had a few question about a friend of mine's 2007 Versa. They bought the car used, and it came with an iPod connection cable in it. The cable has the name "iSimple" on it. The cable, when plugged into an iPod
does
cause the iPod to show it is connected to an audio output device.
The problem, however, is that I cannot seem to find any way to switch to an auxiliary input on the radio. My friend told me they believe the radio is stock. The radio is pictured below, I apologize for the bad picture, but it's night time, and I was in a hurry to get the picture before getting out of the car: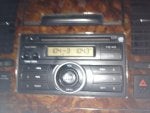 This is what the iPod wire looks like:
We've tried a lot of things to try and get the iPod to play through the speakers, but have had no luck. Any ideas? Help would be greatly appreciated.
EDIT: I looked at a few threads under my own, and saw one that spoke about an "iSimple Tranzit". I'm wondering if that's what's installed in the car. Does anyone know what frequencies it can be set to, so I know to check those stations? I have the manual, and it states that there is a switch to select the best frequency, but it doesn't say which frequencies are available.