Folks,
I commented in a previous thread regarding a transmission fluid change and what my local Nissan dealer wanted to charge me, which, BTW, was $180. The point of this post is to ask or offer advice on which transmission my 2011 Versa HB 1.8S has. I bought my car used, so I don't have the Monroney sticker, but I believe it has just the 4-speed auto. My dealer told me I had the CVT, and he
highly
recommended I get the transmission fluid changed last week when I went in for an oil change. I disagreed with him, but he insisted I had the CVT, so I checked my VIN online.
Also, when checking out Edmunds.com, I see the CVT was only available with the 1.8SL. I have the 1.8S.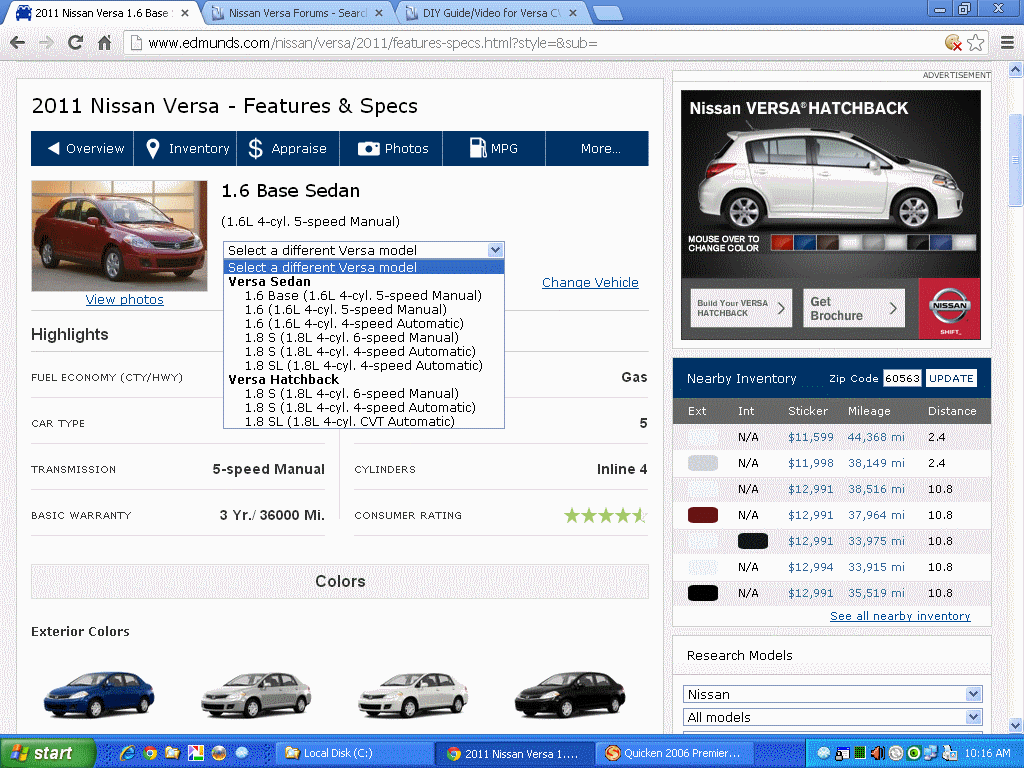 Lastly, when reading the full review on Edmunds for the 2011 Versa, I came upon this paragraph:
The 1.8-litre produces 122 hp and 127 lb-ft of torque. A six-speed manual transmission is standard on the 1.8 S trim. The four-speed automatic is optional on the 1.8 S trim and standard on the 1.8 SL sedan, while the 1.8 SL hatchback gets a continuously variable automatic transmission (CVT). In our testing, a 1.8-litre with the manual also went from zero to 60 mph in 9.4 seconds; in everyday driving, this engine's extra grunt does pay off. This engine returns an estimated 26/31/28 mpg with the manual, 24/32/27 mpg with the four-speed automatic and 28/34/30 with the CVT.
I'm not trying to beat a dead horse here; I'm just trying to understand what type of transmission I have. I tried to look under my vehicle to see if I had a drain plug, but the car sits so low to the ground, and with the front fender plastic apron, I could not see very well beneath the car.
Whether I have the regular 4-speed auto or CVT trans, I still plan on taking care of my vehicle's transmission. My issue is that the service manager had no clue what he was talking about (insisting I had the CVT), and I will bring this to his attention with I go to the parts counter to buy Nissan OEM trans fluid and perform my drain and fill.
Thanks for listening.:bigear: