Wondering if you guys can help me out. It rained yesterday and on my way to work everything turned into black ice. Long story short lost control and slammed into the curb. It hit hard enough the lug nut came off...although I can't seem to find it when I looked so its possible that it was lost before the incident.
Damage
- Bent the left lower control arm really bad
(Replaced)
- Alignment went way off
(Realigned)
- Had to put the spare on because it rubbed against the fender
- Rim went out of balance and bent
(Replaced with new rim)
- Was told the CV joint was okay
- Stabilizer and end links okay
Problem
- When I reach over 100km/h either maintain or accelerating I experience intermittent vibration through the pedals (Don't notice through steering wheel). The vibration is very distinct in a way where you can tell when it will about to happen. It would vibrate and slowly stop, period of smooth driving and then slowly vibrating again. That would go on and off as long as I maintain speed above 100 km/h. This was not persistent before the incident.
Suspicion
- I first thought it might be the front wheel bearing where I initially made the impact.
- Then I read others with similar problem and they think it might be the drive shaft is unbalanced and a new weight needs to be welded on.
- Others say your tires are unbalanced (Really don't think this is the case)
- Could be the suspension.
Wheel Out of Alignment
Overall View of Damage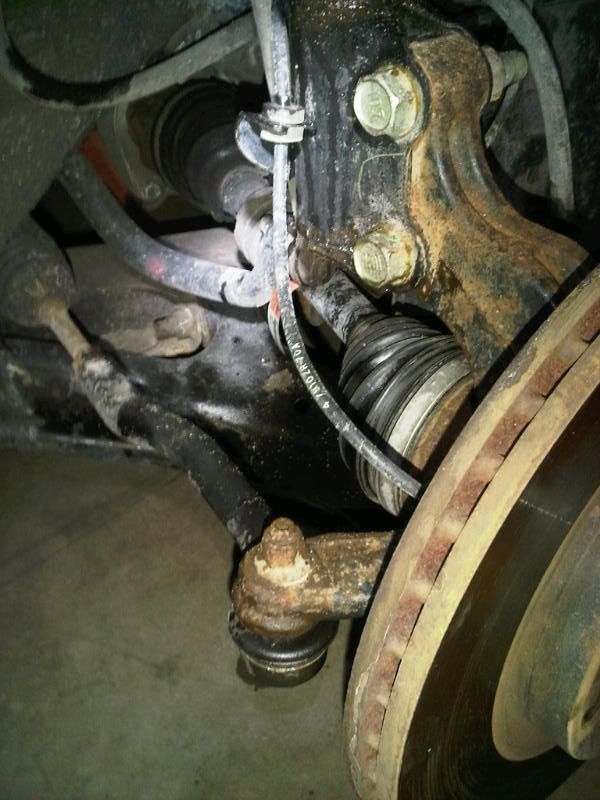 Lower Control Arm Bent
Lower Control Arm Bent