Discussion Starter
·
#1
·
Ok since I have seen that many of you are after performance and I happen to associate with someone who build quality parts I inquired. His name is Charles and he use to work for a well known company but is now on his own. I will leave the name of that company out for now. He has made parts for high end performance cars but I know him for his work he did with the SR20DE.
He built what we call the budget header. It is not cheap like OBX but the quality would be way better and the gains if anything like any of his other work will be phenomenal. The price would be in the $5-600 range theoretically. Now that may go up or down depending on the fluctatating price of materials and choices we make. Such as mild steel vs stainless, or shortening the down-pipe to leave room for a CAT vs eliminating the CAT.
Here is a dyno of an SR20DE powered car comparing the stock header for Charles' header. This was done same day on same car I believe. Only other thing might have been a bump in fuel pressure or timing. But like with any performance mod you can get more out of it by tuning. Luckily we have UpRev that can handle all of that
.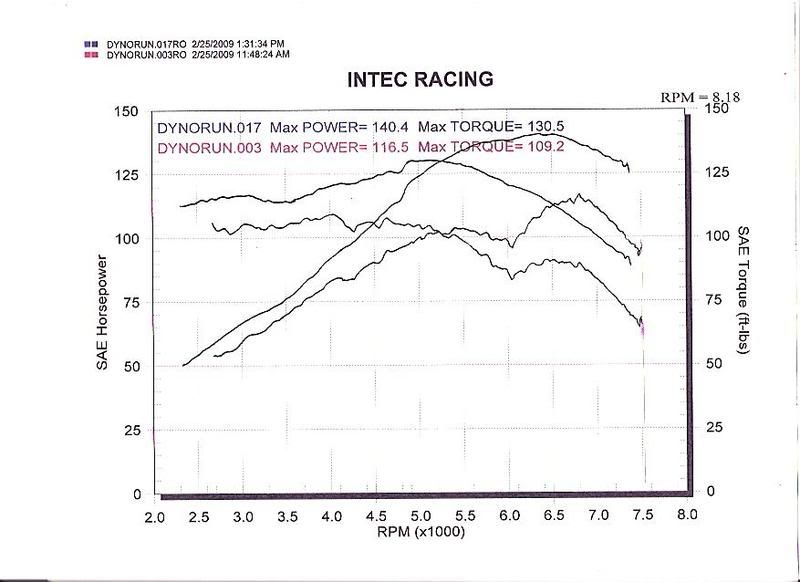 So if there is some interest I will keep talking to him. He will need a dyno of a stock MR18 powered Versa so he can look at the curve. He might also need to have a member stop down at his shop for fitment and such. I am pretty sure he is out in Washington. He is really cool guy and I have known him on the SR20 boards for years now.
If something like this was to actually work out and he made some then it may be the tip of the iceberg. Never know, maybe next would be an intake manifold, or even turbo manifold? You guys wanted options and people taking interest in the V well here we go. He said if we get enough interest he can start actually working on something in about 2 months.
BTW there is one person on here who else might know him as he is on the sr20 boards I am on
.