I recently got my tires replaced at Sears and wanted to get a wheel alignment. Unfortunately, my passenger side outer tie rod was "loose" or had some give and they offered to change it for ~86 $ for the part and like ~55$ for the labor. Being a college student I said no thinking there has to be a cheaper solution.
I did some research and found that I could replace it myself and by an OE part from Moog (ES800249 passenger side 248 for driver side) for ~30$. I was about to do it when I realized that the symmetry on the OE part is different than the factory part on my car. This is what I got: Moog ES800249 passenger side part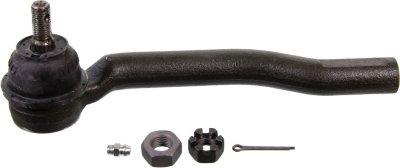 This is the symmetry my car currently has on the passenger side: Moog ES800248 (driver side part)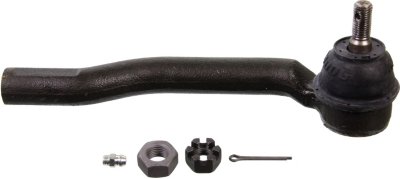 So essentially its as if Moog switched the curve of the outer tie rods from curving to the front of the car to curving to the rear. Here is a mechanical parts drawing from NissanUsa that shows the outer tie rods curving forward:
So I was wondering what is going on... why did Moog switch the orientation. I am not mistaking part numbers (I hope I'm not but please verify). There is a small "R" engraved on my part which I am assuming means right side, yet it is not the same as what my car has on the right side! You can see them all over ebay and Amazon. My three options were:
1) buy the factory part (last resort)
2) by the driver side OE part as well and replace both outer tie rods essentially changing the factory symmetry from curve facing the front to facing the back. I am just wondering why Moog designed the part like this and if there could be any problems. According to a Moog representative, this would mess up your steering/alignment so this option is BAD!
3) Send back the right side and buy the driver side part 248 to install in the passenger side.
I have contacted Moog again and was told basically that the part should match my car. He agreed that the designers probably flipped the orientation! He said there were no customer complaints surprisingly which means either no one has bought them yet or people just installed the part as is and had no problems? I am going to try option 3 if I can return the passenger side part. No one really replied helpfully, but I hope anyone else running into this will find it helpful. Basically, if you want to purchase this part from Moog, buy the part that looks like the one you need not the one they advertise is the left/right side!