This will be my first how-to on the forum and I hope you guys like it. Today I finished up my battery cover, which is exactly what it sounds like, a cover for the battery. If you have a redtop or yellowtop battery from optima, you're looking pretty cool, but if you have just a plain-jane battery (stock or otherwise) Then you have this ugly black thing with warning stickers in your engine bay. If you've painted your engine cover and other such components, then you might want to do something with the battery too (at least I did).
Here is what I used: Krylon Primer, paint, and clear coat; 1/4" MDF; Caulking
MDF measured and cut (measure twice, cut once. I learned this the hard way) The large piece will sit on the top of the battery, and then the other 3 are for the sides. I left the side with the positive terminal open so it would be easier to route the power wire for my amp, although you could do it with a hole on the side for the wire to go through. I used a plug cutter to make a whole for the negative terminal on the other side. I also used a spacer on the bottom to prevent the wood from sitting on the terminals.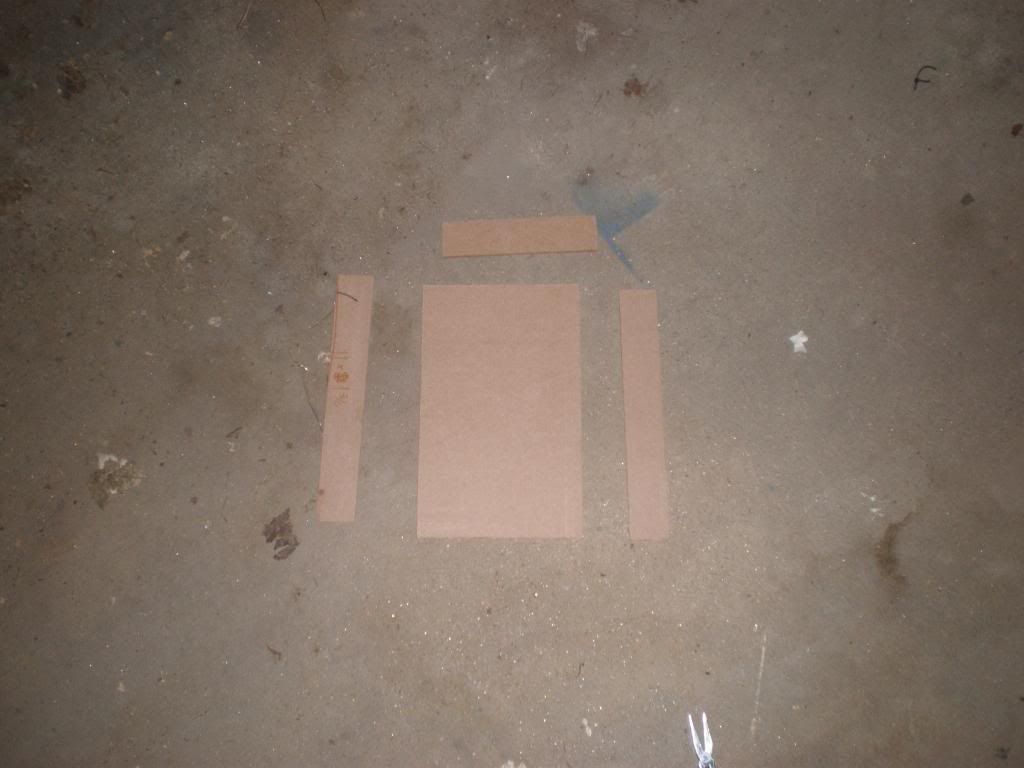 "Glued" I used caulking because I had some left over after doing another project in the house and I didn't have any wood glue left. I put some on the edge of the piece where they would attach, then I added weight while it dried. Afterwards I went back and added more caulking and smoothed it out.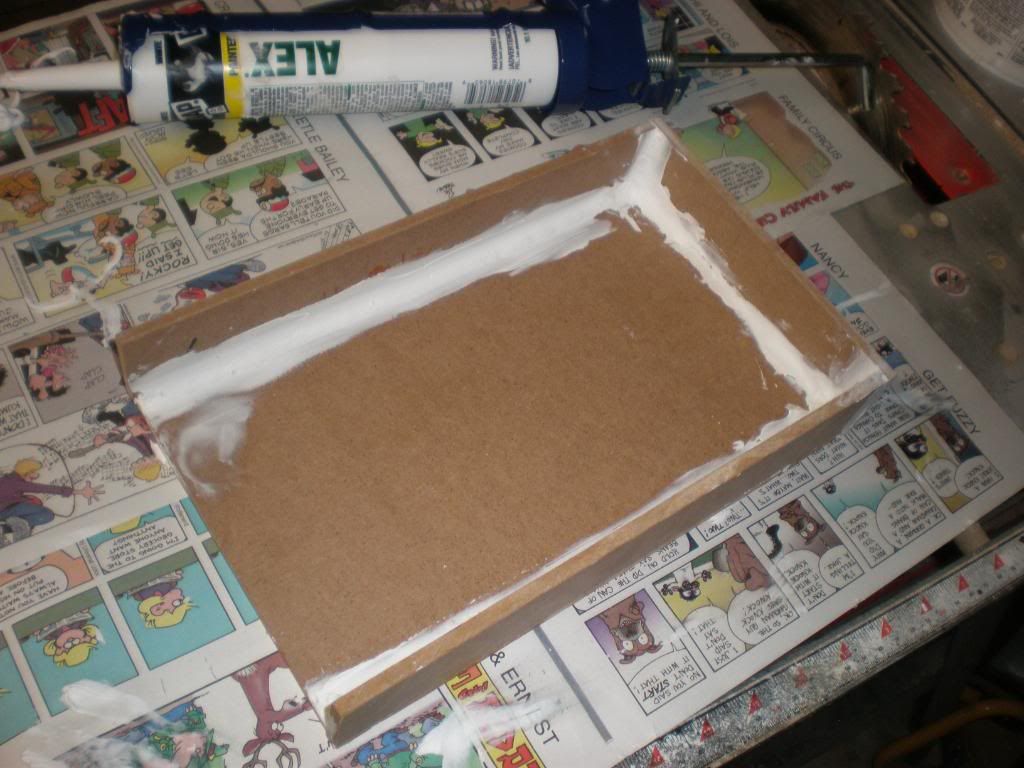 Primer. I had to use many many many coats because MDF soaks up spray paint. It took me around 10 layers to get a good solid coat of primer. DO lots of light, even coats to get the best results. If any sanding needs to be done because of drips, do it!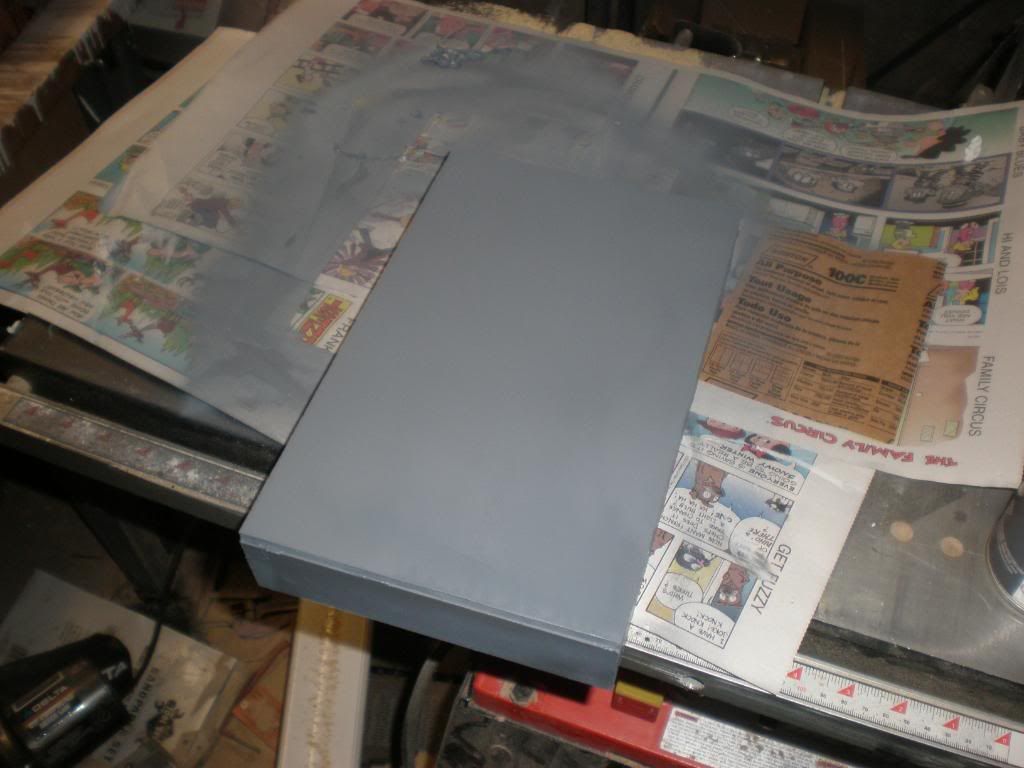 Paint. Only a few coats of paint went on, because I used tons of primer. If I hadn't, this would have taken a lot more paint to get a good finish. If you get drips, lightly sand them with a fine sandpaper and then add more paint to get it smooth.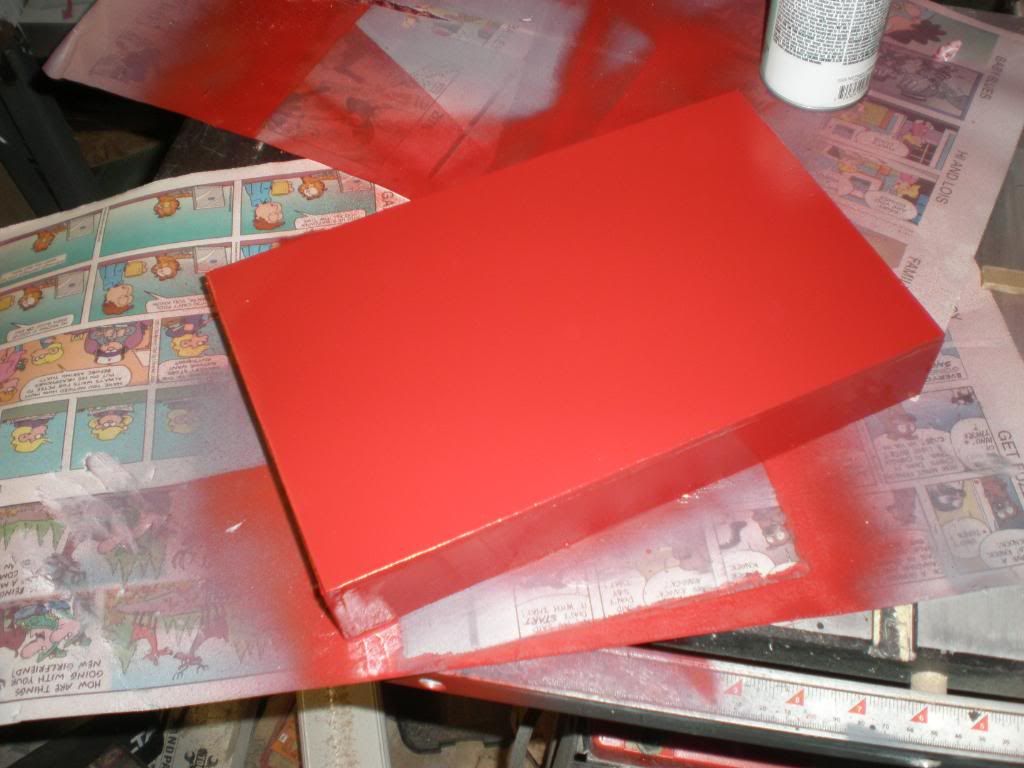 Clear. I used 2 coats of clear coat and it made all the difference. If your clear drips it will be hard to fix, so BE CAREFUL!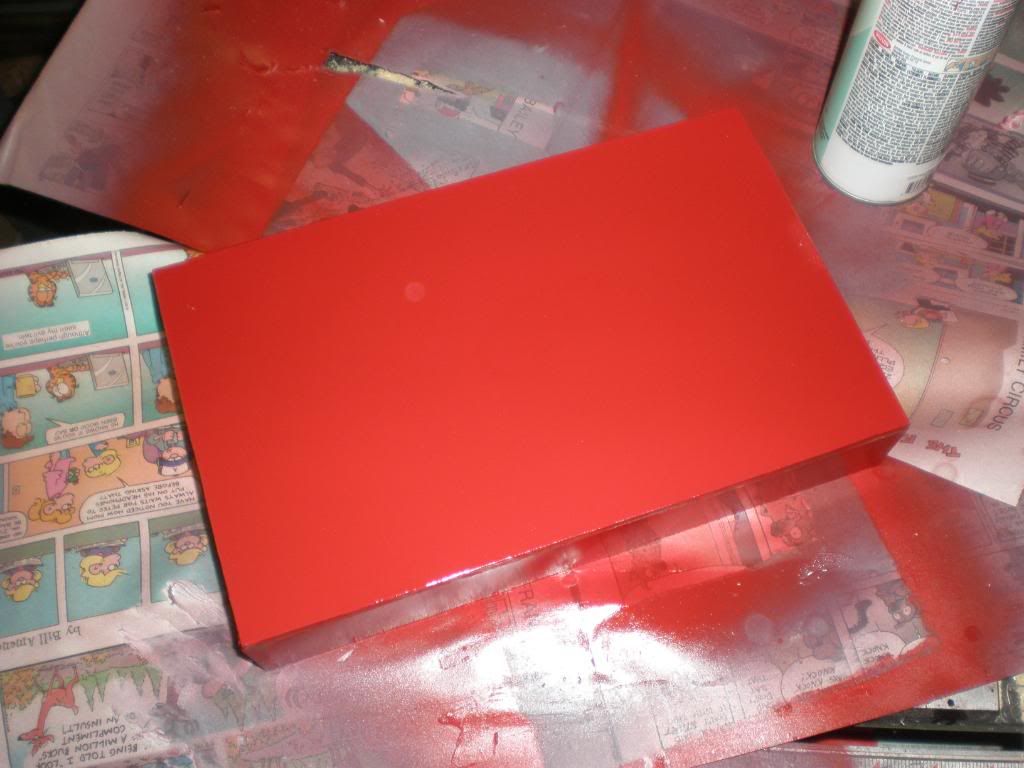 Mounted up. I used a plug cutter on the end with the negative terminal to make a hole for the wire to go down to the chassis ground. I also had to remove one of the sides because I didn't measure correctly (or I did, but then I changed the plan and forgot to re-measure.) I ended up wedging a piece of MDF on the side to make it fit nice and snug.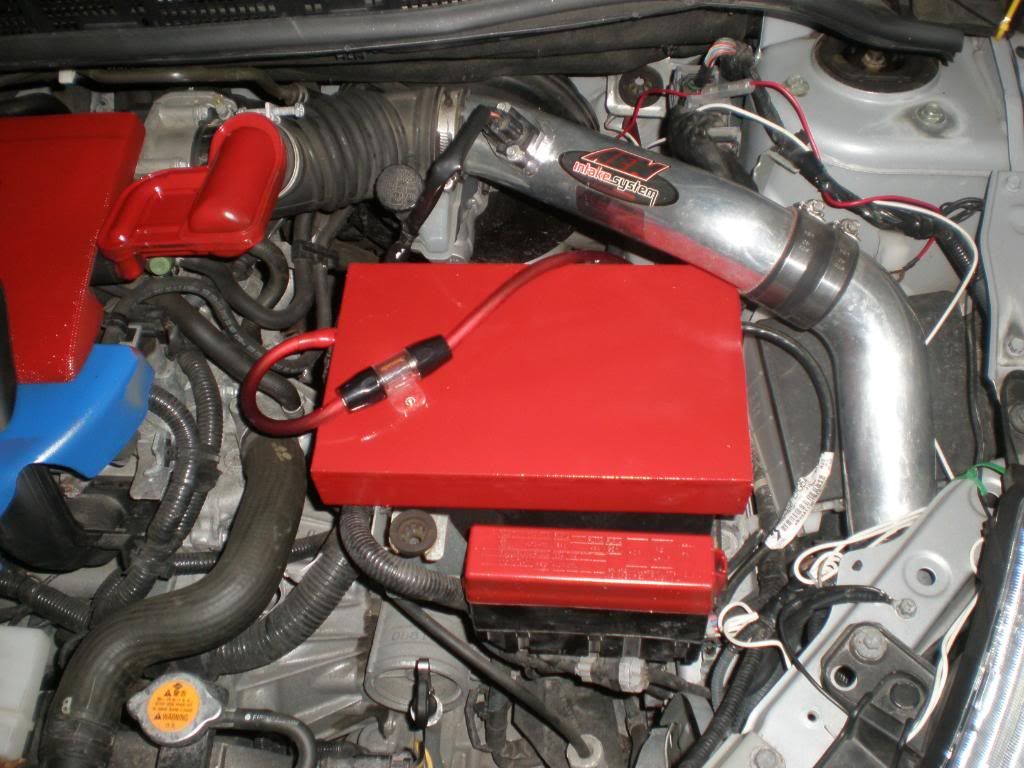 And now the entire engine bay!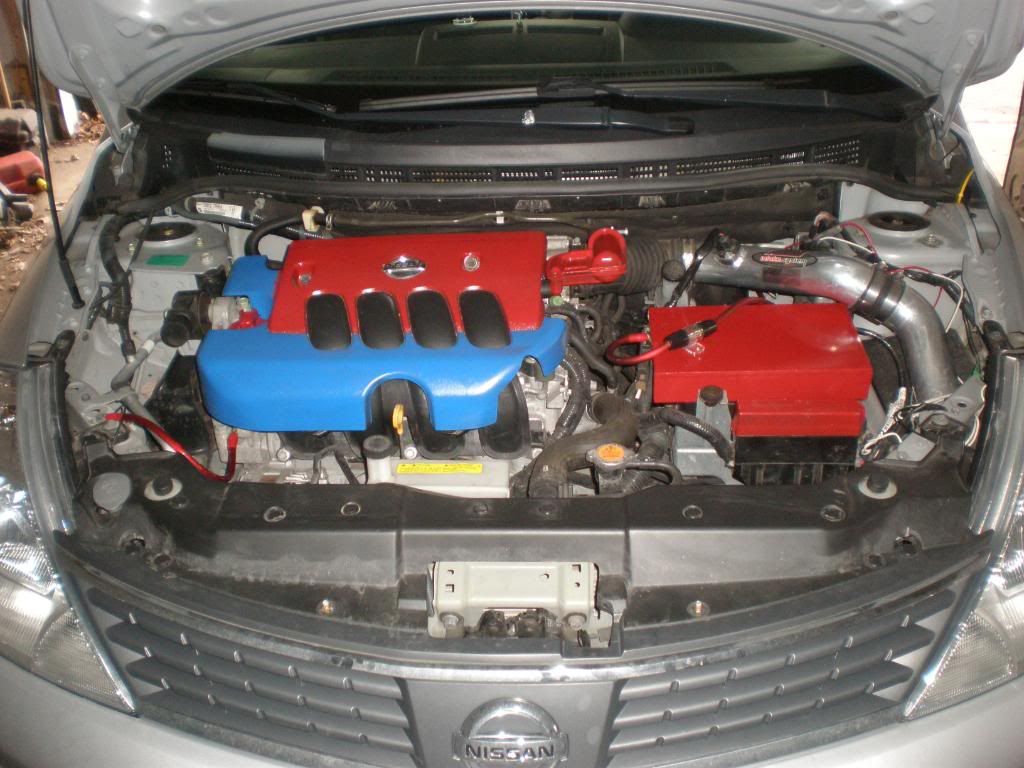 All in all, this project cost me NOTHING because I already had the materials, and it didn't take very much time either. The engine bay looks a little cleaner now and I think it is an overall improvement. Looking back, I would have made sure I measured correctly and made it cover all 4 sides instead of 3. I will be adding a decal to it to break up the solid red. Possibly a blue AEM logo. I will update in a few months and let you know if there are any issues with the wood warping/expanding. What do you guys think?
DIY Video: