Discussion Starter
·
#1
·
I finally got a chance to get and install the 4 post lift. I ended picking up the lift from these guys..
http://www.americanautomotiveequipment.com/AmericanProducts-Model-SS-8000-XLT-p/ss7000xlt.htm
It's a 4 post 8000lb. Also this one is a little longer and taller than the standard one they sell.
The Company was cool and easy to deal with. If you sign up for their emails, they will email you a much better price. Simple phone order, went smooth. I think shipping was like 350.00
The shippers: I think the freight changed hands like 2 times. Anyway, the final guys were Wilson Trucking. An OK company, other than the lift sitting on the dock for 3 weeks. I was out of town anyway for 2 of the 3 weeks it sat, And no call to let me know where it was. It sat in Richmond the entire delay time. Several phone calls and 2 days later, it was moving again. To unload, it took myself and one other guy. WE broke it down part by part on the truck and carried it to the garage. This part sucked... 100deg day, 1.5hrs.
Lift in the garage
The Build: Few things needed for the build. First was 3gal of light Hydraulic oil (NAPA), several jacks and just basic hand tools. I also needed the help of my unloading friend again. The basic instructions were ok. Just take your time and re-read everything like 5x. The cables were the hardest part. The left runway was heavy to set. The install took a good solid 6 hrs start to finish. The lift came with these cool casters that alow you to move this 1900lb monster around with one guy. it came with a Jack-tray (drop a floor jack in this tray) and 3 drip guards. The jack try will allow you to lift the cars front or rear, so you can work on brakes, suspension, or whatever
cable fun.. cable tops and cylinder alignment fun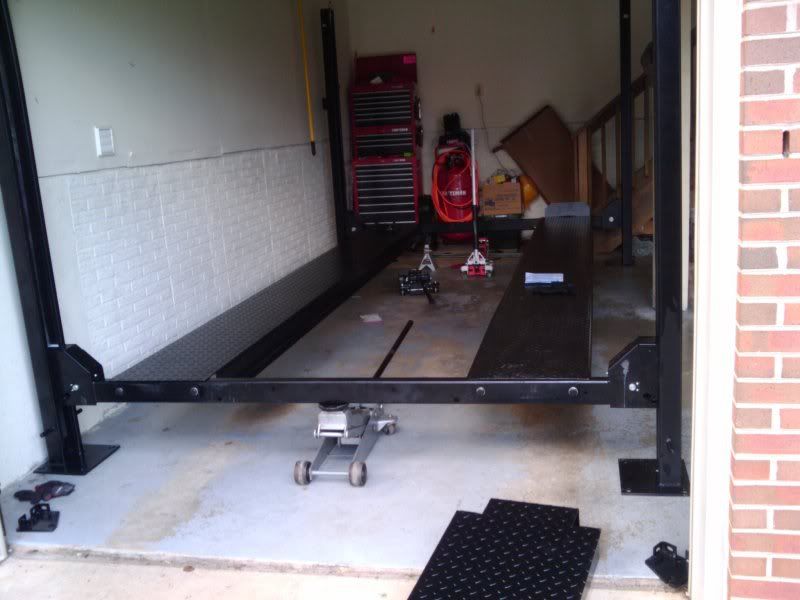 After a few test runs with the versa....
Then fit the Evo. No rubbing, lip clears and all .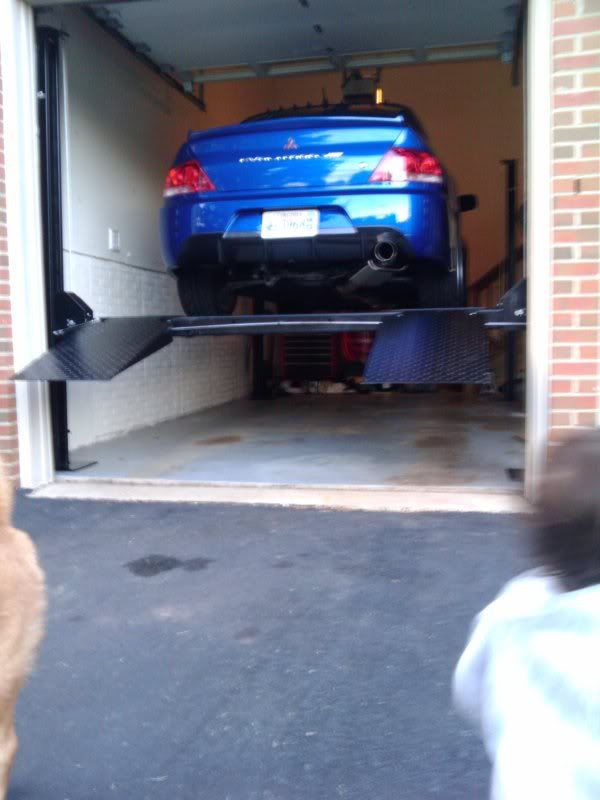 What is left to do. Still need to source and install a high lift conversion for the garage door. This will allow the door to go all the way to the ceiling. I will also have to install a jackshaft garage door opener.
info on the garage door and Liftmaster opener.
http://ddmgaragedoors.com/diy-instructions/garage-door-high-lift-conversion.php#removing-hardware
After that then I will bolt the lift in place, then on to the floor coating.
More to come. :jumping: